---
Once Kidney problems heal, you can have healthy kidneys! It really is true. Optimum Health can help your body heal your kidney problems enabling your body to reverse the issues you see below in the picture.  Your kidneys can, once again, filter the excessive fluid from your body as well as make hormones that keep your bones strong and your blood healthy.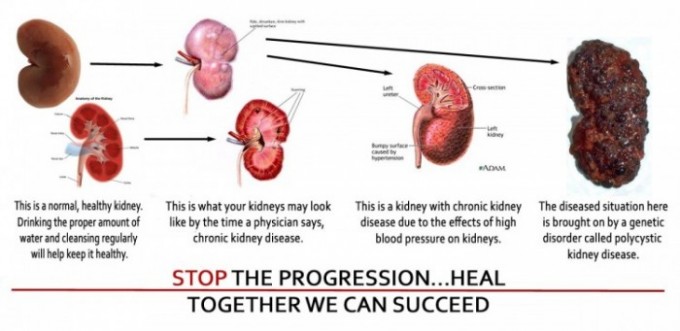 Kidney Problems: Causes
Kidney problems such as kidney failure can occur when things like mercury from dental fillings, and doctors medicines damage your kidneys as the kidneys are trying to remove these substances from your blood.  Once the kidneys are damaged, they are unable to properly filter the toxins and waste from your blood.   As time passes, the damage to the kidneys themselves becomes worse and worse possibly causing your kidneys to look like the kidney to the right in the picture below.
Kidney Problems: Detection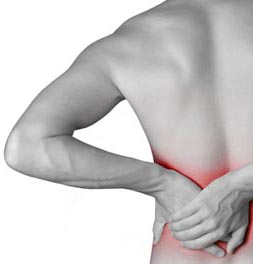 Detection of kidney problems is something we leave to the physicians.  However, a major thing that our clients complain of long before their doctors diagnosed them with  some form of kidney problems is lower back pain in the area indicated in the picture to the right on both sides of the body.  Also, the water in our total body cleanse process consistently turns green long before a diagnosis is made.  Studies have been done to show that nearly half of the people with chronic kidney failure are not diagnosed until years after their kidneys began to fail.  With all of this in mind, we don't wait on the traditional detection of kidney problems to recognize that the kidneys need help.  Our goal is to stop the progression and help your kidneys heal before or after kidney failure detection!
We also see hair loss near the temporal area of the scalp.
To date, 100% of the clients we have assisted in this area have had their kidneys heal to some degree.  Many of our clients have been fortunate enough to have their kidneys heal themselves beautifully.  Their physicians have told them they no longer need dialysis and that their kidneys are no longer at risk for needed to be transplanted.
When we get calls from individuals whose doctors have told them that they have various stages of kidney disease asking if we can offer any assistance, we say:
ABSOLUTELY!
Give it a try!
Kidney Problems: Related Topics
Kidney Problems: Sign and Symptoms
A Little Beer and Wine May Lower Risk for Kidney Stones
Kidney Problems: Improving Kidney Function
Donate to Our Clients Needing Help
+++

Schedule an appointment for a consultation and ion foot detox to get started on your path to Optimum Health.

Member:
Certified Natural Health Professionals