---
Kidney function problems is what Mrs. Luckett was dealing with. She would get a blue powdery residue on her skin. She kept a urinary tract infection every few months. Her doctor said that she most likely had renal failure.
Mrs. Luckett did as her physician suggested. She also began the cellular detoxification. A few months later it was pointed out that there was no more powdery residue appearing on her skin. After a few more months there were no more kidney infections! Her whole complexion changed!
We get calls from individuals whose doctors have told them that they have various kidney function problems asking if we can offer any assistance.  For many, as with Mrs. Luckett, we are definitely able to help.
+++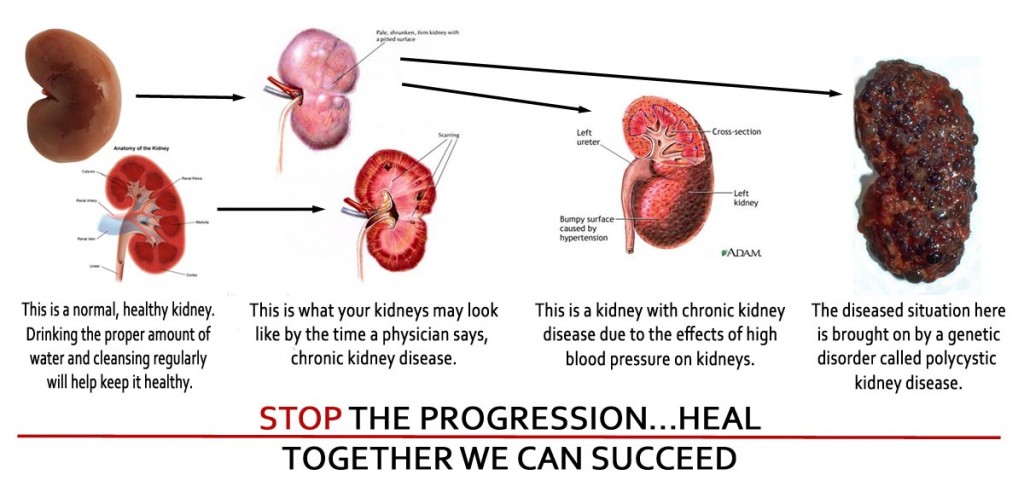 Let us help you today!
 
Kidney Function Problems: Stage 5 Kidney Function Failure
A potential client with kidney function problems causing stage 5 kidney failure had already had a kidney transplant before coming to our center. Unfortunately, the transplanted kidney failed also. When she urinated, only a trickle would flow. After just one total body detoxification, her urine returned to a full stream! Though the total quantity was still minimal, hope for a brighter tomorrow ensues!
Come see how we can help your kidneys heal!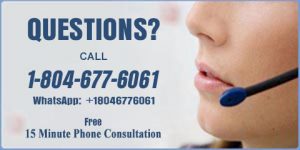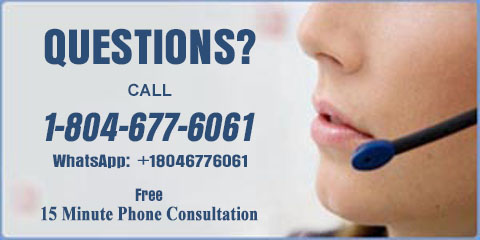 +++
Kidney Function Problems: Stage 4 Kidney Function Failure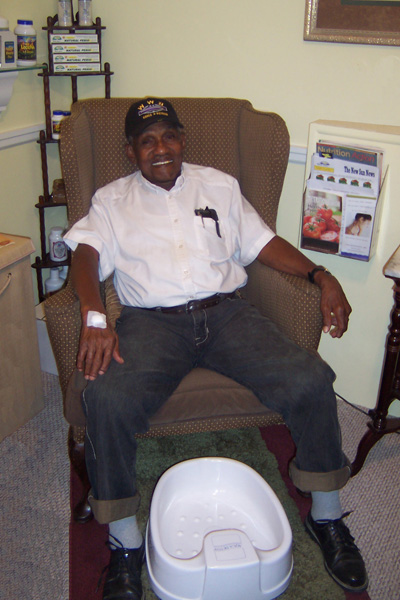 Kidney function problems causing stage 5 kidney failure brought Mr. Butler came to Optimum Health for assistance.   His kidney filtration rate had decreased to only 15-29%. His doctor recommended kidney dialysis for the rest of his life. Though dialysis can greatly extend a person's life, it does not help the body to heal the kidneys.
Mr. Butler's initial total body cleanse focused on almost nothing but what appeared to be a severe cleansing of his urinary tract which would include the kidneys. We were very happy as this meant that we could recommend that he continue the total body cleanses as well as any suggestions from his physician that he chose to do. Mr. Butler, with his physician's approval, decide to hold off on the dialysis to see if the detoxification could help.
Two months later, Mr. Butler's doctor told him that he no longer needed kidney dialysis as his kidneys had begun to work beautifully for a man over 80-years-old as they dropped from stage 4 to stage 3. Since this was significant improvement, the total body cleanses appeared to be allowing Mr. Butler's kidneys to heal themselves.  Mr. Butler continued to cleanse.
UPDATE: 3 YEARS LATER
Mr. Butler is now over 90 years old and has never had dialysis and no longer needs EPO shots.  He only comes to our center for well visits at which time he consistently smiles and says, "I never thought I could feel this good again!"
Mr. Butler died in 2016.  According to his physicians, his death was not caused by his kidneys.  We will miss him.
Kidney Function Problems: Healing Necrotic Kidneys
Healing necrotic kidneys that have created kidney function problems is simple when you have the right perspective and process.  To get the right perspective and process, you have to consider the cause. Necrotic kidneys can be caused by many things such as toxic damage, and lack of oxygen due to sickle-cell anemia. Kirk R had sickle-cell anemia that caused a lack of oxygen to many parts of his body when he was have a sickle crisis.  The lack of oxygen caused the area where the ureter attached to the kidney to die.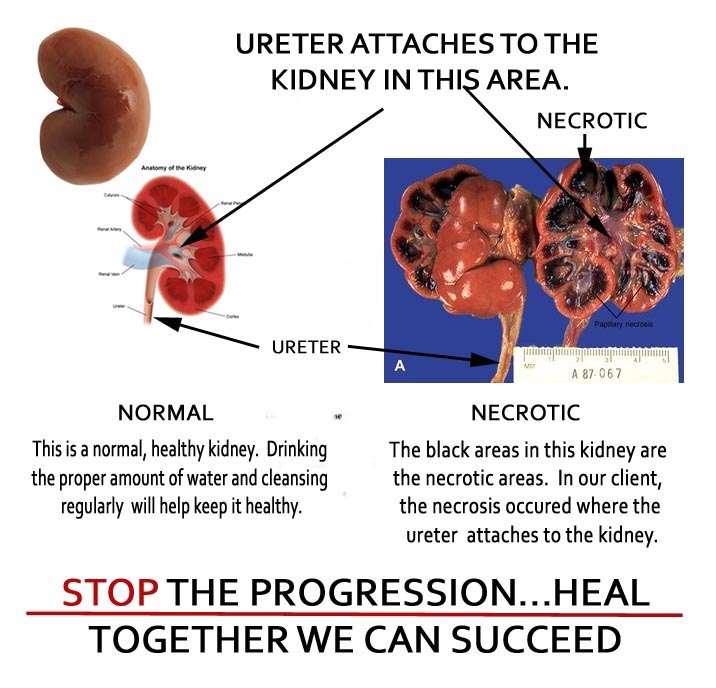 The damage to the area where the ureter connects to the kidney prevented the urine from entering the bladder so it could be removed from the body.  Therefore, Kirk's kidneys would make urine and then leak it back into his body.  Since he could not remove the fluid he drank, he could not drink more than 32 ounces of fluid a day.  Even with the 32 ounces he would swell up with fluid because the urine his kidneys made could not go into the ureter to leave the body.  Instead, his urine would reenter the body remaining inside of him, causing him to swell with fluid.
Kirk didn't believe the health practitioner when she told him that she thought it was fluid.  He said that he thought the increase in his size was due to weight gain.
After getting the nutrients needed, removing the impediments to health and ensuring that his energy was set to heal, wonderful changes began to happen.  When Kirk returned to his normal size in less than a week,  he was ecstatic.   In his words, "I drink the water and just irrigate the city!"
Kidney Problems: Related Topics
Sign and Symptoms of Kidney Problems
Kidney Problems: Stages of Kidney Failure
Dialysis Alternatives for Kidney Problems
Optimum Health's Concept of Healing
Primary Wellness Consultations
Natural Healthcare Center Location
Donations: Help Us Help Others
Email Us, How Can We Assist You?
Start your path to optimum health by scheduling your appointment today. Member: Certified Natural Health Professionals