---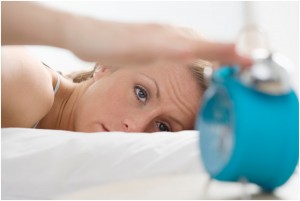 Insomnia with sleepless nights can be due to a calcium deficiency.  Calcium causes the release of the melatonin so desperately needed for sleeps.   But how?  You have weight receptors in your knees that let your body know if you are up putting your weight on your knees.  When you are up moving around, you don't want your body to keep releasing melatonin to try and put you to sleep.  However, once your weight has been off your knees for a good 30 minutes the body signals for calcium to cause the release of melatonin.  The melatonin puts you into a wonderfully deep sleep. If you don't have the calcium, you don't release the melatonin which means you will struggle with sleeping.
Why is Calcium Connected to Sleep?
Because your body needs a lot of calcium while you are sleep to build up your bones.  Since it isn't a good idea to be breaking down and fixing bones while you are running and jumping during the day, your body does it at night while you are immobile as you sleep.  Coupling calcium for bones with the release of melatonin for sleep ensures that you will have the calcium needed to strengthen your bones while you sleep.  Taking the melatonin directly bypasses this process and can lead a good night's sleep without the calcium needed to strengthen your bones.  Ultimately, doing this can lead to osteopenia and osteoporosis.
Insomnia: Related Topics
Sleepless Nights and Adrenal Fatigue
Get Grounded and End Sleepless Nights!
Optimum Health's Concept of Healing
Primary Wellness Consultations
Natural Healthcare Center Location
Donations: Help Us Help Others
Email Us, How Can We Assist You?
Start your path to optimum health by scheduling your appointment today. Member: Certified Natural Health Professionals
d