---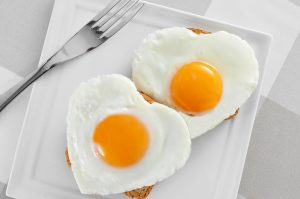 Let's rethink eggs and cholesterol.  Unfortunately, eggs have really received a bad reputation because of some research that was released before all the facts were recognized.  This just isn't fair to the egg!  It's time to set the record straight.
Let's revisit the facts of how eggs affect cholesterol levels in the body. Then, we will indulge ourselves in some awesome egg recipes.
Enjoy the awesome, incredible, edible egg!
EGG MYTH: Eggs will raise your cholesterol level.
"Eggs are probably one of the most demonized foods in the United States, mainly because of the cholesterol in their yolks.  It was originally thought that the cholesterol in the yolk of the egg was used by the body to create "bandages" for damaged blood vessels.  When the damage in the blood vessels gets bad enough to cause real problems, the "bandages" were being blamed.
Would you ever blame a bandage for creating the original problem?  No!
HOW DO EGGS AFFECT THE BODY?
Eggs are one of the best sources of protein available.  The protein in eggs help heal the blood vessels eliminating the need for the cholesterol bandages.  As a result the cholesterol bandage leaves the wall of the blood vessel and floats freely in the blood.  This raises the blood cholesterol level initially.  Once all of the blood vessels are healed and all of the cholesterol bandages are dissolved, the blood cholesterol level drops to a nice, low healthy number. Numerous nutritional studies such as the one conducted by the Yale Prevention Research Center and published in 2010 that allow enough time for this entire process to occur have proven this to be the case.  As a result, the concept of eggs being harmful is hanging on by a very bare thread.  What keeps perpetuating this outdated concept are studies that stop while the cholesterol bandages are still leaving the wall of the blood vessel elevating the blood cholesterol.

SUCCESS WITH EGGS AND CHOLESTEROL
At Optimum we have been encouraging our clients to eat 3-4 eggs daily for several decades!  Eating the eggs makes their skin beautiful and their hair long and silky. Any sores present heal quickly and wrinkles disappear.  Finally, if their cholesterol is elevated, the eggs lower it as much as 40 points in three months!  Need we say more?
In America we eat our staple foods several times a day.  We have hundreds of recipes for these staple foods.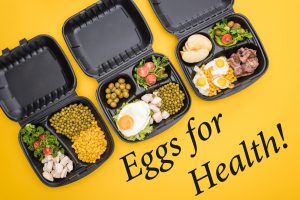 We need to do the same for eggs.  Get started by clicking on the pictures below to see their recipes. choose how you want to eat your eggs.
Because eggs are so important to your health, learn to add them everywhere.  If they aren't really a part of the recipe, that is OK.  Just toss one on top of your meal whether at home or on the go.   It is all about being healthy!
 EGG RECIPES
---