---
Consumer Report purchased 15 protein powders and drinks and tested multiple samples of each for arsenic, cadmium, lead, and mercury. The results showed that all 15 protein drinks contain poisonous heavy metals in considerable amounts.  The levels in three products were of particular concern because consuming three servings a day could result in daily exposure to arsenic, cadmium, or lead that exceeds the limits proposed by USP.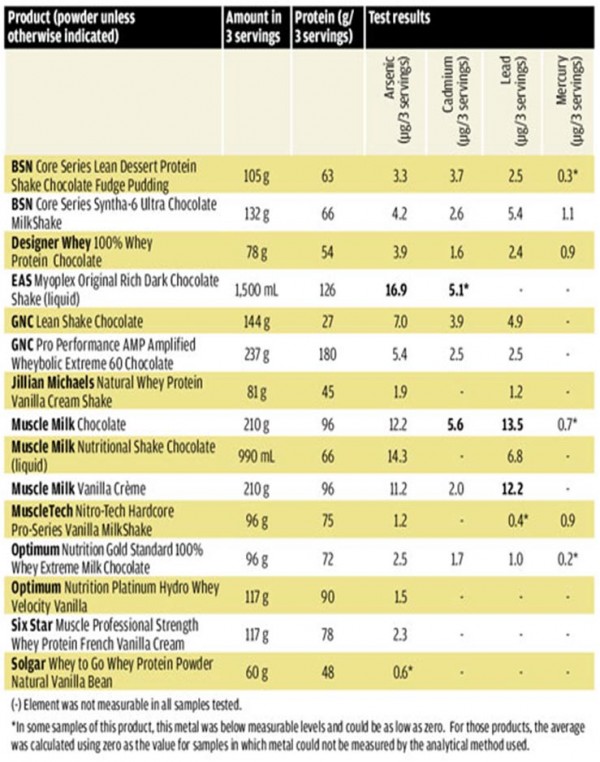 +++
Which Protein Drinks Contain Poisonous Heavy Metals?
To know which shakes are more poisonous, we have to compare their contents to the proposed USP limit.
Myoplex Above Heavy Metal Limit for Arsenic and Cadmium
Based on this chart, three daily servings of the ready-to-drink liquid EAS Myoplex Original Rich Dark Chocolate Shake exceeds the proposed USP limit of 15 µg per day for arsenic.  It also exceeds the proposed USP limit of 5 µg per day for cadmium. Though the concentrations in most products were relatively low, the  large suggested serving size (the number of micrograms per day for a few of the products) was high compared with most others tested."
Muscle Milk Above Heavy Metal Limit for Lead and Arsenic
The samples of Muscle Milk Chocolate powder tested contained all four heavy metals, and levels of three metals in the product were among the highest of all in the tests. Three daily servings of Muscle Milk Vanilla Crème exceeded lead and arsenic limits.
Heavy Metals Lead to Kidney Damage
Since heavy metals such as mercury and cadmium  accumulate in the kidneys and can cause excessive kidney damage, having these substances in a protein drink is cause for great concern.  It takes the body 25 years to eliminate half of the mercury consumed in one day and 20 years for cadmium.  Even worse is consuming both of these highly toxic metals at once increased their dangerous effects.
Add this to the fact that most people have other sources of exposure to these substances and we have a major problem!
For more details visit Consumer Reports July 201p Chart or Consumer Report July 2010 Article.
Protein Drinks Have Poisonous Heavy Metals: Related Topics
Removing Poisonous Heavy Metals
Hair Analysis To Determine Heavy Metal Levels
Arsenic Has Been Linked to Autism
Symptoms of Heavy Metal Toxicity
Optimum Health's Concept of Healing
Primary Wellness Consultations
Natural Healthcare Center Location
Donations: Help Us Help Others
Email Us, How Can We Assist You?
Start your path to optimum health by scheduling your appointment today. Member: Certified Natural Health Professionals