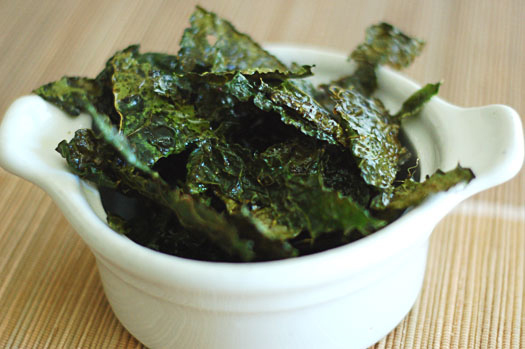 OLIVE OIL RUB FOR KALE CHIPS RECIPE
Fresh Basil Leaves, 1 Hand Full
Garlic Cloves, 3
Extra Virgin Olive Oil, 17 oz Bottle
Kale Chips Olive Oil Rub Preparation:
Chop basil leaves and add to the bottle of olive oil.  Dice or slice the garlic cloves and add to the bottle of olive oil.  Shake well and let sit for a few hours for the flavors to mix.
BASIL & GARLIC KALE CHIPS RECIPE
Kale Leaves, 1 Bunch
Olive Oil Rub
Mrs Dash Garlic Salt
Salad Spinner
Towel
Baking Sheets, 2-3
Basil & Garlic Kale Chips Preparation:
Preheat oven to 300 degrees.
Clean your kale leaves.  Spin kale leaves in salad spinner to get as dry as possible.  Spread towel out on a flat surface.  Place kale leaves on one half of the towel.  Pull the other half of the towel on top of the leaves and press your hands on the towel to squeeze the leaves between the two halves of the towel.   Pull the top half of the towel back and open all leaves to check for wetness.  Repeat as needed until all leaves are dry.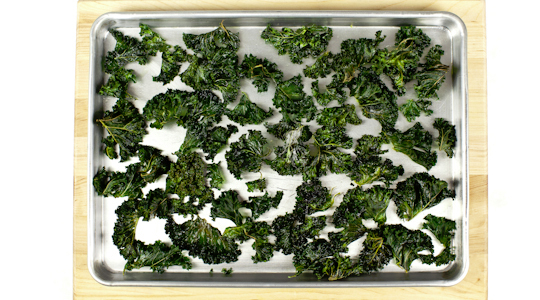 Pour a little of the Olive Oil Rub onto the baking sheets.  Spread a very thin layer of oil over the baking sheets to prevent the leaves from sticking to the baking sheet.
Pour a little of the Olive Oil Rub onto your clean hands.  Rub your hands together.  Pick up a leaf and rub the oil from your hands onto the leaf.  Tear the leaf into large sections and place onto the baking sheet.  Repeat, spreading the leaves out on the baking sheet making sure that the leaves do not touch.  Sprinkle Mrs. Dash seasoning on one side of the leaves.
Place in oven and bake for 10 minutes.  Turn all leaves over. Return the baking pans to the oven placing them on different shelves than they were on before.  Bake for 10-15 minutes until crisp.  Remove from oven and let sit for a few minutes.
Enjoy!