---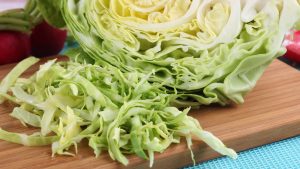 For each medium size head of cabbage, use half a pack of Jimmy Dean Sage Sausage or seasoned meat of your choice.
Cut your cabbage into four sections, then shred the cabbage by slicing across each section making long slithers about the size of a french fry. Fill your sink with cold water and add 2 tablespoons of salt. Put the shredded cabbage into the cold… water. Now, get a big 6 quart pot and cook the sausage into little tiny brown pieces like you would do ground beef for spaghetti.
Drain most (not all) of the water off the cabbage and add the cabbage to the pot of sausage. Season to taste. I use a little xylitol (natural sweetener) or splenda or stevia, garlic salt and steak seasoning in mine.
Put a lid on and turn down to medium heat. Let cook to preference. The cabbage should turn kind of clear. You may want to let it still have a little bit of crunch to it. Or you may prefer it cooked until it is good and limp. Keep in mind that it will continue to cook after you turn the eye off. Put what you don't eat in the fridge. It is good for several meals over several days.
ENJOY!
Other Popular Topics:
Optimum Health's Concept of Healing
Primary Wellness Consultations
Natural Healthcare Center Location
Donations: Help Us Help Others
Email Us, How Can We Assist You?
Start your path to optimum health by scheduling your appointment today. Member: Certified Natural Health Professionals