---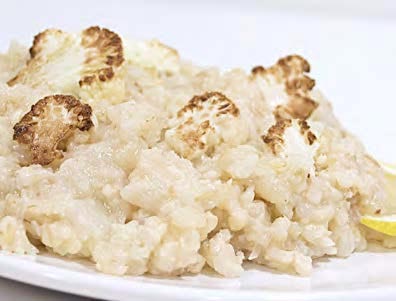 Total time to prepare: 40 minutes
Ingredients:
1 lb. cauliflower, chopped into small pieces
3 Tbs. extra-virgin olive oil
3 cloves garlic, minced
3/4 cup short-grain brown rice
1/3 cup grated parmesan cheese
1 Tbs. lemon juice
1/2 tsp. kosher salt
freshly ground black pepper
Directions:
• In a large, heavy pot over medium heat, sauté the cauliflower in the oil until browned, about 3 minutes.
• Stir in the garlic and cook for 1 minute.
• Stir in the rice with 3 cups of water and bring to a boil. Cover and adjust the heat to simmer for 25 minutes.
• Uncover and stir until the cauliflower starts to fall apart. Continue simmering until the rice is tender, about 5 minutes.
• Remove from the heat and stir in the parmesan and lemon juice.
• Season with up to ½ tsp. of salt and plenty of black pepper.
Serves 6.
Nutrition Information: Per serving (1 cup)
Calories: 190
Sodium: 260 mg
Total Fat: 9 g
Saturated Fat: 2 g
Carbohydrates: 23 g
Protein: 5 g
Fiber: 2 g
(A recipe from Nutrition Action)
Other Popular Topics:
Optimum Health's Concept of Healing
Primary Wellness Consultations
Natural Healthcare Center Location
Donations: Help Us Help Others
Email Us, How Can We Assist You?
Start your path to optimum health by scheduling your appointment today. Member: Certified Natural Health Professionals