---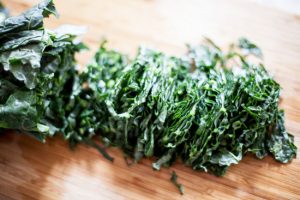 Since kale is considered the #1 vegetable by experts it would be good to include it in your diet.  Adding it raw is even better.  So try this wonderful recipe:
KALE SLAW RECIPE
Wash:
Wash the kale leaves in cold salted water. Shake leave dry. Lay them on top of one another and then roll them up.
Shred:
Cut down the length of the roll. The cut across the roll many times about 1/4 of an inch apart.
Sauce:
Mix 1/2 cup Miracle Whip with 1 oz apple cider vinegar and 1 tablespoon brown sugar. (Double or triple amounts depending on how many kale leaves you start with.)
Make Your Slaw:
Combine your kale leaves with the sauce. Stir well. Add some chopped onions and any other ingredient you choose. Let sit in the refrigerator for at least 20 minutes for the flavors to enter the kale leaves.
ENJOY!
Kale is the #1 Vegetable: Related Topics
Optimum Health's Concept of Healing
Primary Wellness Consultations
Natural Healthcare Center Location
Donations: Help Us Help Others
Email Us, How Can We Assist You?
Start your path to optimum health by scheduling your appointment today. Member: Certified Natural Health Professionals