---
Iridology: Beneficial For Life
Yes, iridology is beneficial for life because it allows you to know the possibilities for your genetic predispositions.  In fact, iridology maps the eye like a clock on the wall.  To illustrate, look at the 6:00 position on the first eye above.  Notice the two tiny black spots.    Now, look at the 10:00 position.  See the larger oval dark blue area.  These areas can indicate damage to organs due to lifestyle choices.  The picture beside it has these areas circled in red.
The third picture above and the one below has an iridology chart laid over the eye.  This chart allows the iridologist to see which organs are located at the 6:00 and 10:00 positions that may be stressing in some way as indicated by the black spots and dark blue oval at those locations.  Using this process, iridology can be very beneficial as it can make you aware of opportunities to strengthen organs that may have been damaged by life style choices such as smoking, pharmaceutical drugs and not drinking enough water.
You can use the knowledge gained from iridology to make life style choices that will build strength in your body instead of feeding into possible genetic predisposition.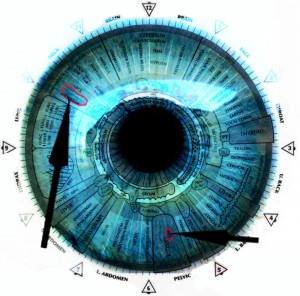 Exactly what is IRIDOLOGY?
Are you asking just what is iridology?  Iridology studies the iris (colored portion of the eye) as it relates to the organs in your body.   When a body part is struggling, the corresponding part of the iris struggles also.  Indeed, it is the study of the iris of the eye in relation to over all body performance.
Take 10 minutes to watch the slide presentation below for more information on how beneficial iridology can be in guiding you towards your optimum health status.
SEE what Dr. Oz & Dr. Mosaraf Ali had to say about iridology:
---
Fees

Iridology, Add On:
The Iridologist will look into your eyes through a special magnifying glass.  As long as you do not have complicated eyes, she will describe to you what she sees using charts and drawings.  If your eyes indicate a very complicated situations, she will recommend that you get the full service iridology appointment.  Then, she will take pictures to increase the accuracy of your results.  You will get a copy of the pictures when she goes over the report with you.
………………………………………………………………………………………………………………………………………………………………. $50
Iridology, Full Service with Pictures and Explanation:
Includes a 15 minute appointment to take pictures of eyes and an additional one hour appointment to review the detailed report to make sure that you understand what your eyes can tell you.
…………………………………………………………………………………………………………………………………………………………….. $200
Because we think iridology is essential to guiding you towards your optimum health status, it is automatically included in every Primary Wellness Consultation at no additional charge.  The iridology reading done in the initial consultation is a simple reading.  It consist of looking into your eyes with a magnifying glass and a pen light.  Then, she will record what she sees in written format.  Again, if your eyes indicate a very complicated situations, pictures will be required as indicated above.
Other Services
Optimum Health's Concept of Healing
Primary Wellness Consultations
Natural Healthcare Center Location
Donations: Help Us Help Others
Email Us, How Can We Assist You?
Start your path to optimum health by scheduling your appointment today. Member: Certified Natural Health Professionals