---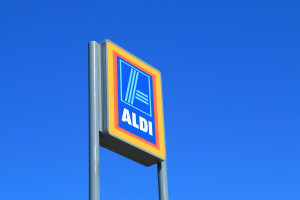 ALDI has fresh organic foods similar to Whole Foods Market for prices typically less than Walmart. Sure, it is on a smaller scale than Whole Foods Market  or Walmart. But when you are shopping within a budget, ALDI just might be your answer for fresh organic food.
ALDI's Press Release
ALDI's January 12, 2016 press release indicates that their goals for the year of 2016 span from "increased organics and healthier options at checkout, to exclusive brand food products free from ingredients customers worry about.." Some stores already have the choice of nuts and dried fruits at the checkout lanes instead of chocolate and other candies. This grocery store's "exclusive food brands… are now free of certified synthetic colors, partially hydrogenated oils (PHOs) and added MSG."  The press release also states, " While ALDI milk has been free of artificial growth hormones4 for years, ALDI is committed to ensuring that the milk used to make all ALDI cultured products, such as yogurts, sour cream, and cottage cheese, has no artificial growth hormones. "
ALDI's Prices
ALDI's prices are exceptional!  Their steak sauce that is absolutely awesome was less than a dollar a bottle. Compare that to A-1 Steak Sauce costing nearly $3 a bottle at other grocery stores. Their bag of baby carrots was 25 cents as compared to over $2 a bag at grocery stores.
If nothing else, stop in and decide for yourself if this grocery store just might be the place for your fresh organic food choices.
ALDI: Popular Topics
Healing Begins with Understanding
Initial Consultation, Your "Physical Exam" Natural Health Style
Preventing Symptoms of Dehydration
Optimum Health's Concept of Healing
Primary Wellness Consultations
Natural Healthcare Center Location
Donations: Help Us Help Others
Email Us, How Can We Assist You?
Start your path to optimum health by scheduling your appointment today. Member: Certified Natural Health Professionals