---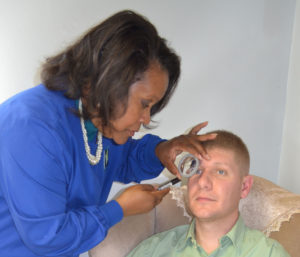 Iridology is the service were the spotlight need to shine!  Iridology is beneficial for life because it allows you to know the possibilities for your genetic predispositions.  This means that you can find out if it is possible that your kidneys were weak from birth.  Knowing this can let you make sure that you always take good care of your kidneys.  Yes, we should always take care of all of our body.  But, let's face reality and recognize that sometimes knowing that a particular weakness is there is a true motivator for taking good care of that area of your body.
Iridology can also be very beneficial by making you aware of opportunities to strengthen organs that may have been damaged by life style choices such as smoking, pharmaceutical drugs and not drinking enough water.  Sometimes, knowing that a particular habit or substance is definitely harming you can give you the extra push you need to take better care of yourself.
Other Popular Topics:
Optimum Health's Concept of Healing
Primary Wellness Consultations
Natural Healthcare Center Location
Donations: Help Us Help Others
Email Us, How Can We Assist You?
Start your path to optimum health by scheduling your appointment today. Member: Certified Natural Health Professionals