---
---
Two Examples of Heavy Metal Toxicity
Since heavy metals are literally heavy, gravity pulls them downward. Therefore, they tend to settle in your hand and feet. More tends to settle in your feet. The more you have settling, the higher up your arms and legs the settling will occur.  As the metal tends to irritate the skin from the inside, the rashes below are what we at Optimum Health have come to consider classic for long-term heavy metal exposure.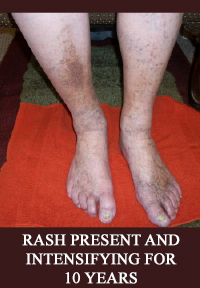 This first client's legs (on the left) were so heavy and restless that he could no longer lift them normally to climb steps and constantly moved them around in exaggerated motions while sitting. His feet were blue on the bottom, his right foot had very little feeling and he could barely move the toes.
His legs felt lighter immediately. After over 20 dermal chelation session, the bottom of his feet were normal in color. He could move his toes, walk up steps normally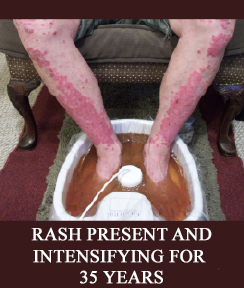 and had full feeling in his feet. As expected, the rash decreased with chelations until it is completely gone.  His podiatrist of nearly a decade was amazed at the changes.
This second client's legs (on the right) were very heavy and burned like they were on fire.  His legs felt lighter and the burning stopped after metal was removed with his first chelation. The burning came back within 24 hours but would stop again with each chelation. The burning stopped completely once all of the metal is removed.  Again, the rash decreased with chelations until it was completely gone.
+++
Heavy Metal Toxicity: Related Topics
How do you get rid of metal toxicity?
How do I know which type of metal toxicity I have?
Optimum Health's Concept of Healing
Primary Wellness Consultations
Natural Healthcare Center Location
Donations: Help Us Help Others
Email Us, How Can We Assist You?
Start your path to optimum health by scheduling your appointment today. Member: Certified Natural Health Professionals