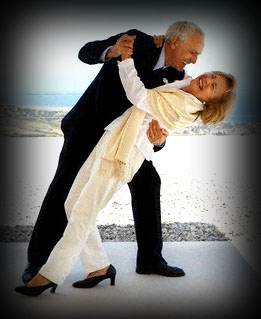 An 81 year old male was referred to our center. He called and interviewed me, natural health practitioner for Optimum Health, over the phone several times. He finally decided to schedule an appointment and made the 1 hour drive to our center. He slowly and feebly made his way from his car to our lobby. After his first total body detoxification (ionic foot bath) he realized that he could move easier. He rocked his pelvic bones back and forth and said, "I didn't realize how stiff in the rear I had gotten!" Then he began moving his shoulders and arms around.
At that point, I said, "Oh, I can see now that you are a dancer!"
"What do you mean?" he asked.
"Well, many times people are able to move so much better after the total body detoxification that they just can't help but dance. I call them the dancers."
"Oh, no…let me assure you." He said, "I won't be one of your dancers. I haven't danced in over 30 years! But I am going to go to the restroom."
As he left my office and walked through the lobby towards the restroom, he spent around on his toes and said, "I feel so light on my feet!" Then, as he approached Ayana (our certified detoxification specialist) he took her in his arms and waltz her around the lobby. Then he bent her down gracefully and exclaimed, "Yes, I am a dancer!" Ayana was surprised and speechless.
Wouldn't it be nice if all of our older ones realized that they too could be dancers again!
Written by Tianya S. Clark, B.S., CNHP